Tomás


Let me introduce Tomás, our English Cocker Spaniel
Hi! My name is Tomás. I was born on April 18th, 1999. My humans say that I am a naughty dog, but I don't think so, I just love doing things that they consider "wrong". For instance, if I steal socks from the washing machine, which I do at least once a day, they would yell at me "bad dog!" Who, me???
It's very funny although sometimes they get mad at me. Would you believe it if I say that Alex (the boss) got really upset because I chowed his sneakers? I think he over reacted, anyway...
But let me tell you something, this guys love and spoil me and I enjoy living with them.
I absolutely love running in the park. I've got lot of friends in my neighborhood and we usually play together and have lots of fun. When Laura and Alex take me to the beach I swim and chase seagulls but they are so difficult to catch!!!
Well, I will stop here because Alex doesn't like me using the computer. Sign my guestbook and leave your URL so I can visit you when he is not at home.
PS: Did I mention that I like cheese, milk, chicken, icecream and cookies?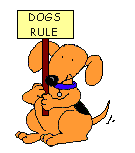 click here for important things to remember!

A STUMP FOR A TAIL
You can't buy loyalty, they say
I bought it though, the other day; You can't buy friendship, tried and true,
well just the same, I bought that too. I made my bid, and on the spot,
bought love and faith and a whole job lot of happiness, so all in all,
the purchase price was pretty small. I bought a single trusting heart,
that gave devotion from the start.
If you think these things are not for sale,
buy a brown-eyed puppy with a stump for a tail.
-author unknown-